Connect with your social network account
Posts: 39
The book "My Way to the Seven Seas" is written by Martines Rocha de Souza, a Brazilian bar waiter working for Cunard Line. Each crew member working on cruise ship has an extraordinary life story to share. Crew members are unique breed of people who life on land and life at sea taught them to be strong, smart, pleasant and companionate. Martines Rocha de Souza is inspiring thousands with his passion of life on cruise ship and his book.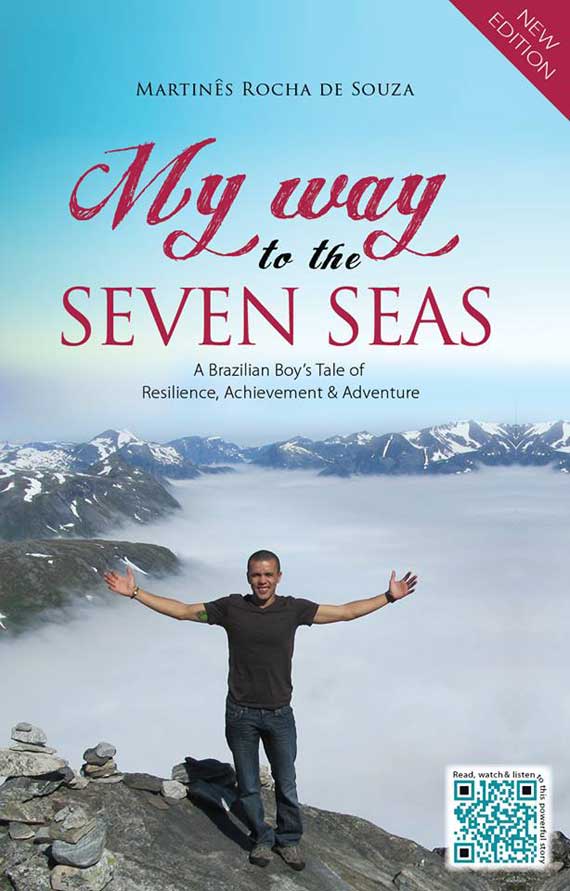 Martines was born into a poor family in a small village in Brazil and raised in a single parent family. Young and poor, he left his home in a small village in Brazil with very little education to seek and fulfill his life's dreams. He departed for Sao Paulo with $150 in his pocket to begin his epic journey of resilience and achievement.
I've written in my first book loads of things that may inspire others to work on cruise ships, in my home Village for example, after me six of them are going to the sea, one is already and over ten young adult are learning English after seeing my story. Work on a cruise ship is having a different life style, hard work, long hours, trainings, courses, bad and bed days, however is the only place where you will feel able to conquest the world, I would say your own world. Working in a cruise is having no borders.
The content within each of the 20 chapters of the book is embellished by one or more videos of rich material – all narrated by Martines adding his special appeal – accessible directly from the book via QR codes or web link. The experience for the reader is one of feeling that the author is talking directly to them and showing them his world through both his written word as well as spoken word and real-life excerpts via film. This book was originally published in Portuguese and then translated into English by the President of the Brazilian Writer's Association. We have now published a completely revised and updated New Edition.
If you are interested in this book you can find it at www.amazon.com/Way-Seven-Seas-Resilienc ... 1925198006
Ship Happens and then you go back home on vacation.
---
Tags:
---